User Experience Under the Microscope
Mar 30, 2020
User Experience Under the Microscope as the Shift to Remote Work Spurs Demand for Reliable Remote Collaboration Tools
The rapid shift to remote work has presented new challenges for employees and businesses, and IT is at the epicenter of this change. As travel has been curtailed and employees work from home, tools like video conferencing, file sharing and enterprise productivity suites have become mission critical to business continuity. The IT team is not only tasked with providing these tools, but with ensuring they work reliably – under the strain of competing activities on the home network and ensuring there is enough bandwidth to go around.
The Impact of Remote Work: The Numbers
"We're being forced into the world's largest work-from-home experiment and, so far, it hasn't been easy for a lot of organizations to implement," says Saikat Chatterjee, Senior Director, Advisory at Gartner.
Prior to the recent surge in remote work, 4 in 10 U.S. employees would work away from team members, at least some of the time. Now, out of necessity, many employees are being asked to work from home if they can.
Amid lockdowns, school closures and an influx of people working from home as part of an effort to control the spread of COVID-19, questions have risen as to whether or not the world's Internet infrastructure can handle the stress of the surge in data usage.
Naturally, internet usage has increased while people are self-isolating, as has usage of video conferencing and remote collaboration tools. Microsoft reported that usage of Teams increased 34% last week, as businesses globally implemented work from home policies. OpenVault has found that peak internet usage from 6PM-11PM has risen by 11%, while daytime usage from 9AM-5Pm has ballooned 34.4%.
Whether you're working from home, enabling your children to e-Learn or connecting with family and friends through videochat, evaluate your connection to the Internet to ensure it can support the services you need to stay productive.
Is Your Network Up to the Task?
UCScore is a simple free web-based assessment tool designed to test voice call quality, so that end users have a clear and accurate idea of their network performance. Evaluate your overall network in minutes, with no software installation, and know exactly how your network will perform to real-time traffic demands. It works by sending packets (that represents voice calls) between the end user and the UCScore server. It then delivers results in a standard easy-to-read summary.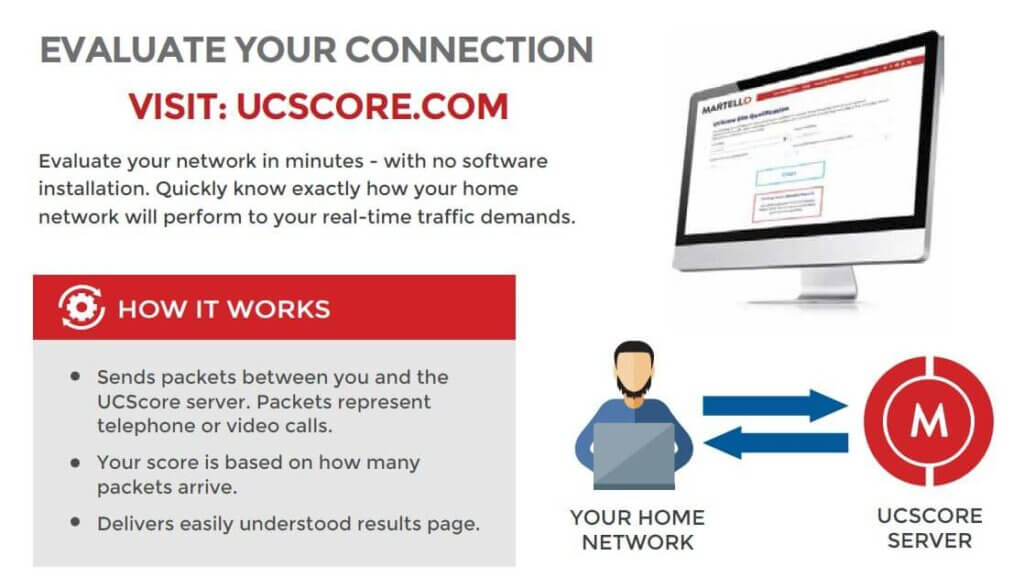 Knowing how your network will perform can help you adjust usage of the various services you need when working from home, to get the best performance. Service providers that bring UCScore into their operations can use this test to qualify the customer's network prior to a UC deployment, to ensure customer satisfaction. As Ryan Towner, President of Towner Communications Systems said: "This simple tool is quite unique in the industry, adding value to our pre-sales, installation and troubleshooting operations. We can show our customers information that they don't have access to through any other tool, which demonstrates our expertise and the range of technologies we can apply to help our customers achieve success."
In uncertain times, it's important to remain connected and evaluating your network health will help you with that!
Visit the Martello Technologies website to learn more.