Canada's first Autonomous Vehicle Technology and Innovator Directory
May 31, 2018
In celebration of #NationalAutonomousVehicleDay, the Kanata North Business Association has established a first of its kind resource that will capture a comprehensive listing of the growing number of contributors to the AV ecosystem across the country. This will include innovators, companies, post-secondary institutions, and other organizations with AV technologies, solutions, and knowhow.
The launch of the Canadian Autonomous Vehicle Technology and Innovator Directory marks another 'Canadian first' to steward national awareness of our country's position as a global leader in autonomous vehicles and related technologies. The Kanata North Business Association is spearheading this effort in collaboration with Invest Ottawa and CAVCOE in order to establish coast to coast collaboration and access to partnerships that will strengthen Canada's contribution to Autonomous Vehicle innovation globally.
The launch of this Directory in conjunction with the celebration of Autonomous Vehicle Day in Canada brings a spotlight on Ottawa's growing tech ecosystem. The Directory will be an open, community document (hosted in Google Sheets) to be populated initially by the Kanata North Business Association and Invest Ottawa with Kanata North and Ottawa based AV companies to start. The Directory will be shared with local and national community partners and promoted broadly to ensure continued sharing and awareness. Access the Directory here.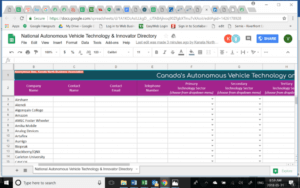 Coast to coast, Canada is an AV powerhouse with AV clusters in key technology centres advancing Canadian AV innovation. As Canada's AV Capital, Ottawa has more than 70 companies and organizations contributing technology and expertise in networking, software, cybersecurity and IoT to AVs and connected cars. Anchored by global AV leader BlackBerry QNX, more than 45 of the firms that comprise Ottawa's AV cluster are located in Kanata North Technology Park, the largest of its kind in Canada.
Sign up for our Blog to receive our articles automatically.